Scott started modeling at age 18 when he was scouted by the legendary Wilhelmina Cooper at a cafe in Beverly Hills.
After living in New York and working as a model, Scott's career took a turn when he discovered Thom Fleming bartending at a party on Long Island. Scott recognized potential in Thom and convinced the scruffy carpenter to lose 20 lbs and give modeling a shot.
Two months later, Thom booked the cover of GQ Magazine and Scott instantly became one of the most sought-after names in model management. Scott Copeland Talent was born.
Under the tutelage of Wilhelmina Cooper and Eileen Ford, founders of Wilhelmina Models (1967) and Ford Models (1946), Scott fine-tuned his eye for talent and created lasting connections with agencies and clients all over the globe.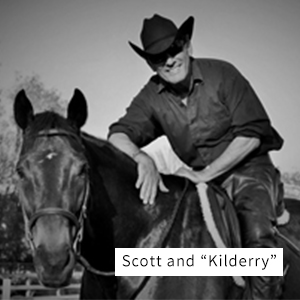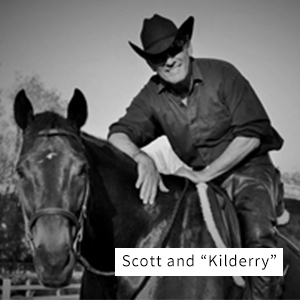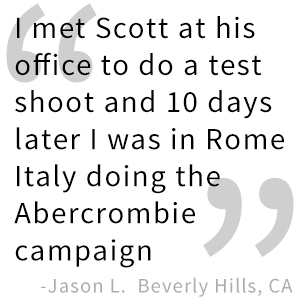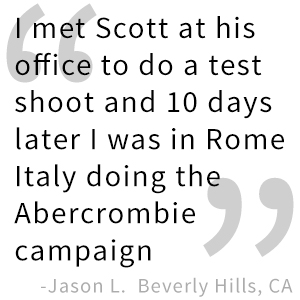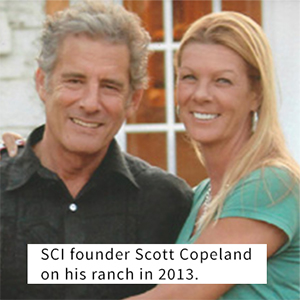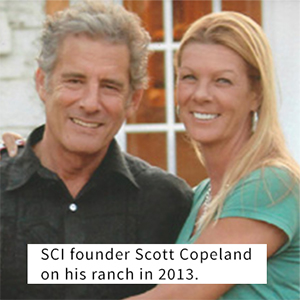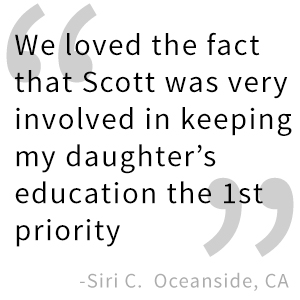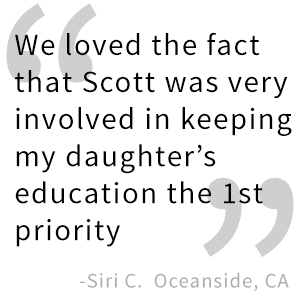 Scott Copeland Talent Today
Thirty-plus years after discovering Thom Fleming and launching the careers of many successful models, Scott Copeland Talent remains a trusted model management firm, maintaining an A+ rating with the Better Business Bureau and with more five-star reviews on Yelp than any other company of the same caliber.
SCI has been entrusted to develop new talent and also those already know by birthright (Trey Majors, son of Lee Majors; Ryan Bloum, grandson of Jimmy Durante; Erin and Austin Gage, grandchildren of Esther Williams; Armie Hammer, great-grandson of Armand Hammer; Tommaso Rosselini, grandson of Ingrid Bergman and Roberto Rossellini; Heidi Halsey, granddaughter of Admiral William Halsey, Jr.)
Scott is dedicated to developing models and actors without sacrificing values; health, family, and education come first. Top agencies and clients trust Scott Copeland Talent to produce not only models with looks, but models with character and integrity.
After some of his models became interested in pursuing acting roles, Scott began to forge relationships in the world of TV/film and quickly found success when Justin Bruening (Grey's Anatomy, All My Children) landed the lead role in NBC's Knight Rider (2008) remake. Since then he has made a name for himself in Hollywood with clients like Armie Hammer (Call Me By Your Name,  The Man From U.N.C.L.E, The Social Network, The Lone Ranger), Tomasso Rosselini (Interno Giorno), Barry Kaufman (Loving), and James Hyde (Passions).
The Team Behind SCI
We are blessed to have a truly incredible team at Scott Copeland Talent. Andy Taft has been a director at the company for over 15 years and named Scott the god-father of his young daughter Stella. In an often hectic and temperamental field, Andy is known for his reassuring poise and kind nature.
Virginia Combs has been with the company since 2014 and has risen from administrative assistant to executive director. She brings a keen eye for color and detail as well as graphic design skills to SCI and has been passionate about working with young people since she began coaching volleyball in 2010.  An advocate of quality education and health-conscious teens, Virginia is proud to be a part of a management company that puts the health and safety of the talent above all else.
Ashley Hunter is one of our scouts and joined us after working for John Casablancas Modeling as a promotional manager. A passion for fashion and design led to her initial interest in the entertainment industry, but after seeing talent get disappointed by outcomes at Casablancas, Ashley turned to SCI where the end goal is to get talent in a position to work.  Ashley is able to see beauty and potential in everyone and her open, outgoing nature makes her a perfect fit for SCI.